Print Custom Stickers!
Make you own custom stickers starting from $25 per roll.
Get an instant proof and FREE delivery across canada
MAKE CUSTOM STICKERS
Select your product
Choose a sticker shape to get started
FREE Shipping
to all of Canada
Weather Resistant
High quality print with Laminate protection
Low Minimum
Starting at just $25 a roll (minimum 5 rolls)
Watch how it works
5 Easy Steps
1. Select Material
Choose between Transparent, Glossy and Matte.
2. Protective Coating
Choose waterproof or laminate coating.
3. Pick Size
Choose the size of the stickers in inches
4. Select Quantity
Indicate how many rolls to be made.
5. Upload Design
Upload an image or create your own design.
Don't have your own design?
We can help!
Starting at $50*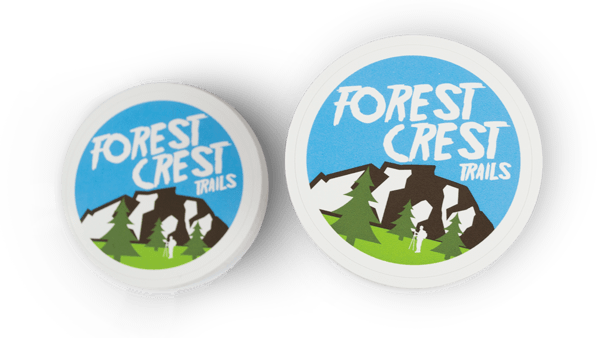 Here's what Our Customers are saying!
FRESHII
Service is great and I Got the help that I needed, thanks!
El Catrin
Price is very affordable! Will use them all the time
The Village Grocer
Great Service! Got the help that I needed :)
Have questions? We're Here to Help!
If you have any questions about our stickers, send them our way at
FREQUENTLY ASKED QUESTIONS
Still Not Sure? Check Out Our FAQs Below
Yes, we offer free shipping (including brokerage and customs fees) via UPS for larger orders. Requirements for free international shipping vary by country as shown below.
If an order does not qualify for free international shipping, you can view our international shipping rates.
When designing your transfer sticker, there are a few simple guidelines to ensure the best possible quality. File preparation is completely optional. Feel free to upload your design as it is and we'll make any required setup and modifications before sending you a proof.
If you haven't already, read how to design a transfer sticker which covers artwork size requirements and modifications.
Keep in mind transfer stickers are precisely cut from vinyl material. We use the lines, referred to as paths, in your vector artwork to determine where the material is cut. Irregularities in these paths can cause problems with how the material is cut and the final product. Our art and production teams look for these irregularities during the process.
We require 1 line item per design. To upload multiple images you would add a line item for each image.
No, we can only print CMYK colors. It's on our roadmap to add support for RGB colors, but we do not know when this will be possible.
When artwork is submitted in RGB, the colors are converted to their closest available matches in CMYK before going to print. If you let us know your desired CMYK values when ordering it will make it easier for us to print your desired colors. Otherwise we will use our judgement to decide the closest equivalents.
Since RGB has a larger range of colors than CMYK, some RGB colors are currently difficult or impossible to match exactly.
Yes, you can update artwork by either emailing us the changes you want or, when you receive your first proof, you can select "request changes" to provide us with new instructions and also new artwork.
Yes, we offer free shipping (including brokerage and customs fees) via UPS for larger orders. Requirements for free international shipping vary by country.
If an order does not qualify for free international shipping, you will be charged our international shipping rates.
Can I get a discount for ordering multiple designs?
Yes, we automatically discount your order as you add more items to your cart. Each unique design must be ordered as a separate line item.
To calculate your discount, we determine the total amount of material and labor required to process your order. You can see how this works by adding multiple items to your cart. In general, as your order becomes larger your discount will be more significant.
A few ways you can take advantage of this feature:
Order multiple variations of the same product (for example, you may want to order 5 different design variations of a 3" circle)
Order a set of completely unique stickers (for example, you could order circle stickers, sticker sheets and die cut stickers at the same time and we'd price it as if it was one large order).
Add-on a few extra designs to a large order. Since we calculate the price of your order based on it's total size, if you need to order a large quantity of one design you can add a few extra designs for a low price.
All orders receive a free online proof within 4 hours of checkout. Although we ask for a credit card upfront, we do not charge it until your proof is approved.
Changes will be made to your proof for free until you're happy. You can cancel your order at any time before approval at no charge. The video below shows how our process works.
We maintain a less than 1% defect rate. However, if there is an issue with your order, contact us and provide a photograph that indicates a problem. We will reproduce any defective items after verifying the issue.
Since every order is 100% custom, we do not allow returns for reasons unrelated to quality. For example, we cannot refund or reproduce your order if you decide you do not want it, ordered the wrong size or prefer a different product.
The most important aspects of our returns & refunds policies are:
We must be contacted within 72 hours from delivery of any defects.
We require you submit a photograph that clearly indicates the problem.
We may request that you return 100% of a defective order before we reproduce your order
We will pay for shipping and provide a shipping label if a return is required.
We will reproduce or refund your order within 5 days if we verify that we made an error.
We will use the original production time and shipping method when reproducing an order.
All sales are final.
Contact us and attach a photograph that indicates the problem and we will address it accordingly. We typically do not require a physical return.
We make transfer stickers up to 15" by 15". Support for larger sizes is on our roadmap. The smallest available size is 1" by 1", but artwork must meet our transfer sticker requirements to be eligible to print at smaller sizes.
Our custom stickers are fade resistant for 3 - 5 years. The printing is water resistant too.